Channahon-Minooka Chiropractor,
Dr. Darren Cissell
Dr. Cissell is A Voice for Wellness in Minooka
Everything has its place in health and medicine, and I try to be a voice for wellness in this community and affect one life at a time. There is no shortage of sick people and people in pain with various conditions. Therefore, as a chiropractic physician, in addition to acute care, I incorporate many areas of wellness into the health center, including massage therapy, weight loss, acupuncture, classes and seminars on wellness, community talks, therapies such as electrical stimulation, ultrasound, ice, heat, myofascial release and manual decompression.
We also offer the Ideal Protein weight loss program and does it ever work!
My passion and commitment to chiropractic is reflective in how sincere and honest I try to be to my patients. They are like my family and I want to help them and their loved ones in any way I can with all their health goals. I take pride in providing gentle care for each patient. Adjustments do not have to be forced and we have more than one technique to get the job done. I enjoy working with patients from babies to adults and particularly enjoy treating local athletes. I am proud to be a part of the "Channookan" community and reside in the area with my lovely wife and four boys.
Can Chiropractic Help You?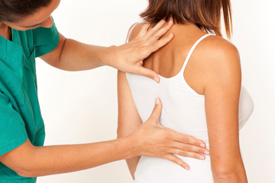 Chiropractic is amazingly simple. Chiropractic is remarkably safe. And chiropractors can be helpful for a variety of health problems-problems that rarely resolve on their own.
The chiropractic profession sits largely towards the wellness and prevention end of the spectrum, but we also treat and take on acute conditions daily. Our clinic routinely takes on several personal injury and worker's compensation cases. We are a Tier One clinic and work hard to get the best results we can within the scope of your insurance as fast as we can both ethically and affordably. But we also discuss other options for care with our patients that may compliment or replace our treatment for certain cases such as medication, physical therapy or possible surgery. Patients deserve all options whether it is for pain-relief, corrective care, preventative and supportive care, or seeing another health practitioner.
Frankly, I have never been the type of chiropractor that trips people up in a shopping center, ropes patients into coming in for some long-winded treatment plan, claim to cure everything, or ask patients for a large sum of money upfront at some discounted rate thereby forcing them to come in. I've been practicing in the area for almost two-decade and most of our patient base has been through word of mouth.
Although we can be as busy as I am fast some days, we are also not your run-of-the-mill clinic that has our patients coming in like an assembly line. We take our time with each patient often incorporating passive therapies such as manual decompression and myofascial release techniques.
We also discuss home exercises and precautions with patient's active daily living in order to help prevent future exacerbations in their conditions, and encourage wellness, prevention and regular check-ups with their primary care physicians.
Chiropractic medicine is a corrective procedure similar to physical therapy, but with more focus on the specific bony alignment than on soft tissue alone when done correctly. It does not replace physical therapy-it compliments it.
So whether you refer someone directly to us or are a patient yourself, rest assured, you are in good hands literally, and I am always grateful for the trust and chance to help whenever I can.
Waiting will only postpone the moment you enjoy relief. So please call now. Countless other southwest Chicagoland area residents have discovered that our Chiropractic has helped!
---
Ridge Chiropractic
104 Ridge Rd., Suite 144, Minooka, IL 60447
(Off I-80 south on Ridge Rd behind McDonalds)